Multiple Dates
Depot Tours Are Back!
Weekdays at 11 am – 1:30 pm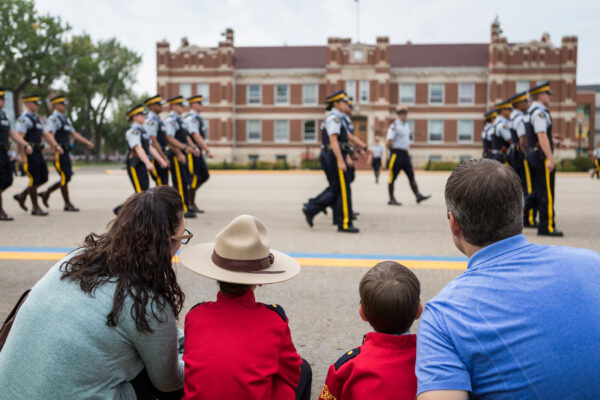 June 19 to September 1
*July 3, August 4, 7, 9, 10 and 24 tour dates are closed.
Experience a behind-the-scenes look at the RCMP Training Academy "Depot" Division, featuring special access to observe the daily Sergeant Major's Parade on the historic parade square!
Hop aboard our trolleys for an hour-long, guided tour with stops at:
The Chapel – the oldest building in Regina
The Cenotaph – commemorates the brave Mounties who have lost their lives in duty with an eternal flame
Learn about the Town of Buffalo
Observe the Sergeant Major's Parade, where you'll witness the incredible dismounted cavalry drill.
With limited spots available, this is not something you want to miss!
Must know, before you go
Guests must be at the Heritage Centre to register by 11 am (CST). Guests are accepted on a first-come, first-serve basis every day.
Guests are required to register including; signing in at the Heritage Centre, providing full name and address, and providing photo ID, which will be kept in a secure place at the RCMP Heritage Centre for the duration of the activities on Depot.
Guests must follow all protocols and procedures.
Bags and personal items must be stored at the Heritage Centre during the tour on Depot/Sgt. Major's Parade.
Tours may be cancelled as a result of severe weather conditions.
The seating capacity is restricted to a maximum of 50 individuals.
Admission
Our special admission combo offers you an unforgettable tour experience plus unlimited access to our galleries and theatre the day of the tour.
Adults – $17
Seniors – $14
Students (with valid ID) – $14
Child/youth (6-17) – $13
Under 5 – free
Family (2 adults and up to 4 children/youth) – $45
Active members of the military or police (Canadian) – $12
RCMP Vets and spouses – by donation
For school and travel trade groups, please contact bookings@rcmphc.com or (306) 719-3016 a week prior to your visit.