October 19, 2021
MACABRE MUSEUM: Mad Trapper of Rat River, 1931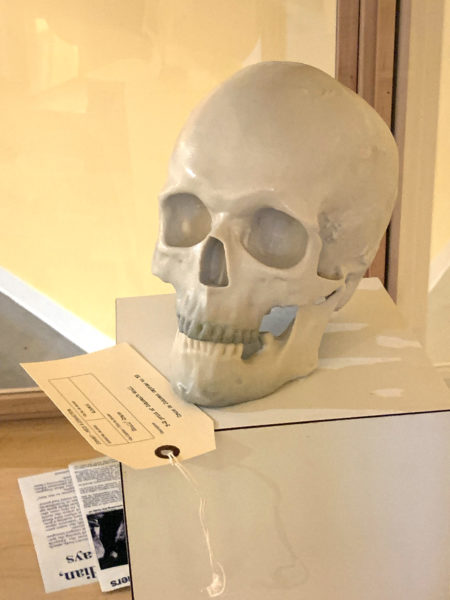 The Macabre Museum exhibit features a 3-D printed copy of the skull of the storied Albert Johnson, Mad Trapper of Rat River. In the early 1930s, trapper Albert Johnson, led the RCMP on one of the largest manhunts in Canadian history. On New Year's Eve in 1931, RCMP Constable Alfred King and Special Constable Joseph Bernard were investigating several complaints on the traplines west of Fort McPherson. On a follow-up visit to Johnson's cabin King and Bernard came with a warrant and were joined by Special Constable Lazarus Sittichiulis of the Gwich'in Nation and Constable Robert McDowell. Johnson shot King through the door. It was in no small part thanks to the efforts of Sittichiulis, McDowell, and Bernard that Constable King survived the 200-hour, 130 km dog sled trip to receive medical treatment in Aklavic, Northwest Territories. Media covering the manhunt gave Johnson the moniker "The Mad Trapper of Rat River".
The ensuing manhunt for the "Mad Trapper" lasted 48 days, covered more than 240 km in temperatures of -40C. During the man hunt, a second man was badly wounded (Staff Sgt. Earl Hersey with the Royal Canadian Corps of Signals) and another, Const. Edgar Millen, was killed at a gunfight when he and another three officers located the trapper at his camp on January 30, 1932. The "Mad Trapper" escaped again.
The skilled bushman outsmarted the RCMP at every turn travelling in some of the harshest conditions. Realizing they needed to step up the search, the RCMP hired bush pilot Wilfrid "Wop" May and his Ballanca Aircraft. May, mechanic Jack Bowen, and Constable William Carter (Millen's replacement) left Fort McMurray on February 3, 1932, for the north. The air crew dropped much needed supplies for the officers and dogsleds on Johnson's trail, and ferried men to strategic locations. The aerial chase helped the RCMP catch up to Johnson by February 17, 1932, when he was cornered and killed. The officers found $2,410 in Canadian dollars, $10 in American dollars, five pearls and a small amount of gold including pieces of dental work. No clues to his identification were found on his body. His real identity remains a mystery to this day.
When Johnson's body was exhumed in 2007 for a forensic study, a bullet fell out. This bullet is on display as part of The Macabre Museum.