October 5, 2020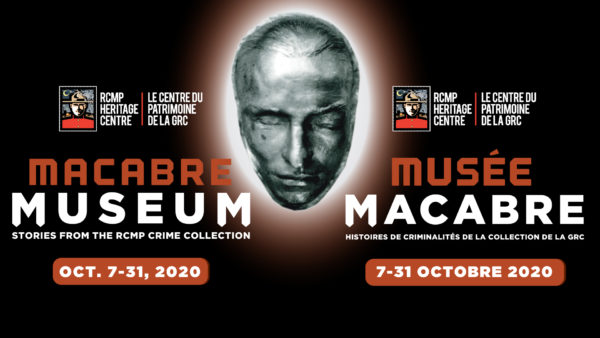 RCMP Heritage Centre's Annual Macabre Museum Exhibit Opens October 7
REGINA— While COVID-19 may have put a hold on many things, the RCMP Heritage Centre's annual Macabre Museum feature exhibit will proceed this October with standard COVID-19 precautions in place. Curated by the RCMP Historical Collections Unit, the Macabre Museum exhibit displays artifacts from some of the most famous criminal cases in Canadian history. The exhibit opens to the public on October 7, 2020 before it disappears after Halloween. 
"The Macabre Museum feature exhibit is loosely based on the Crime Museum at New Scotland Yard, headquarters of the Metropolitan Police in London, England," RCMP Historical Collections Unit Curator Jodi Ann Eskritt said.   "Sometime in 1874, the Metropolitan Police began collecting criminal memorabilia, mainly for police training and study purposes. The Crime Museum continues to this day and was only opened to the public in 2015 – 141 years after it was established!" 
Artifacts from some of Canada's famous historical criminal cases will be on display in the Macabre Museum. The exhibit purposely focuses on older cases in sensitivity of victims, families, and members of the force. Many of the artifacts were confiscated from prisoners or donated by the court system or an RCMP detachment. These include the Benito Bandits' death masks, weapons seized from criminals, bullets, rope from a noose, and other unusual criminal artifacts.  
Visitors can expect to be greeted by a familiar face upon entering the Macabre Museum. The exhibit's usual host will be returning: Oliver, Sgt. Ernest Cavell's ventriloquist dummy. Cavell, an amateur magician and ventriloquist, had been posted to northern Canada after the First World War. Cavell and Oliver often entertained children at annual Christmas Pageants across the north. Oliver helps keep an eye on all the artifacts in the Macabre Museum.  
The exhibit also includes a few new artifacts that have not been on public display before, including a fake log used to smuggle alcohol, a small selection of counterfeit pieces, and historical and modern forensic tools. 
The Macabre Museum opens Wednesday, October 7 and will disappear after Halloween. It is open to the public five days a week from Wednesday to Sunday from 11:00AM to 3:00PM. Admission is by donation.   
NOTE: Viewer discretion is advised. Some of the material in the exhibit may be upsetting, particularly for small children. 
COVID-19 PROTOCOLS
All visitors will be required to wear a mask during all times in the facility.  If you are unable to bring a mask of your own, one will be provided to you at the Heritage Centre. 
All visitors are required to complete a questionnaire upon arrival, containing personal contact information and questions regarding personal health.  Refusal to complete this questionnaire will result in denial of entry to the facility.  Personal information will not be shared or used for promotional purposes, unless required by the Health Authority. 
 The Heritage Centre will have a maximum capacity and will be staggering entry into the galleries to maintain physical distancing.  Parties of no more than 6 people are allowed to travel throughout the museum as a group.  Directional flow of the facility must be obeyed during any visit. 
– 30 – 
MEDIA INQUIRIES
Jess Paul 
Blossom Communications for the RCMP Heritage Centre 
306.529.0566 or jess@blossomcomm.ca  
FEATURED ARTIFACTS
Benito Bandits' Death Masks
The infamous Benito Bandits who, after murdering two policemen on a cold October morning in 1935, were the subject of a three-day manhunt across three prairie provinces that grabbed national headlines. During this manhunt, the pair shot two other police officers (who later died in hospital) before the Bandits were killed in a shootout. Their death masks are part of the Macabre Museum display.  
Mad Trapper of Rat River – Skull and Bullet
The exhibit also features a bullet and a 3-D printed copy of the skull of the storied Albert Johnson, Mad Trapper of Rat River. Johnson shot a police officer that had come to question him on charges of stealing from other trappers. This led to a stand-off in the Yukon that included the first time the RCMP used a plane in a manhunt. The foot chase ended when Johnson was killed on February 17, 1932. Johnson's Arctic stand-off with the Mounted Police, in which another officer was killed, left behind a mystery man who inspired books by the dozen. When Johnson's body was exhumed in 2007 for a forensic study, a bullet fell out. 
Makeshift Weapons from 1919 Winnipeg Strike and 1935 Regina Riot
The anonymous rioters of the 1919 Winnipeg Strike and the 1935 Regina Riot who wielded makeshift weapons to terrify the imagination. Visitor will be able to view some of these weapons, including a pipe found on the 1800 block of McIntyre Street in Regina, a weight tied to the end of a rope, a bunch of wire fashioned into a club shape, and a bicycle chain. 
Palm Pistol & Other Weapons
Palm pistols were quite popular in the 1920s and 1930s. An ad from the Chicago Fire Arms Co. on display with the palm pistol proclaims, "Revolver protects, loaded or not." The palm pistol is featured alongside other weaponry the RCMP has confiscated over the years, including sawed off shotguns.