July 1, 2023
2:00 pm - 5:00 pm
Canada Day Celebration
👉July 1
⏰2 pm to 5 pm
💲Free
🎉Celebrate this Canada Day with the RCMP Heritage Centre! This exciting event is perfect for the whole family and is open to all. Join the Centre from 2 pm to 5 pm for FREE admission and a range of FREE and enjoyable activities! 🙌🏽
📖Take a walk through 'Buffalo Wild!' – a captivating book by Deidre Havrelock
🍁Maple Leafs Scavenger
🎬 Movie Screening
🐕‍🦺 Meet a Police Service Dog
🎨Free face painting
📸Snap a photo at our selfie booth
🖌Test out your artistic skills in rock painting
👀Guided tour of our galleries
🚩Leap, jump, and lift your way through the obstacle course
💡 Storytelling at the tipi
🏍Zoom around on our mini motorcycles
👋🏽Meet Monty the Moose
We look forward to celebrating this great day with you!
Funding provided by the Canadian Heritage Celebrate Canada Fund.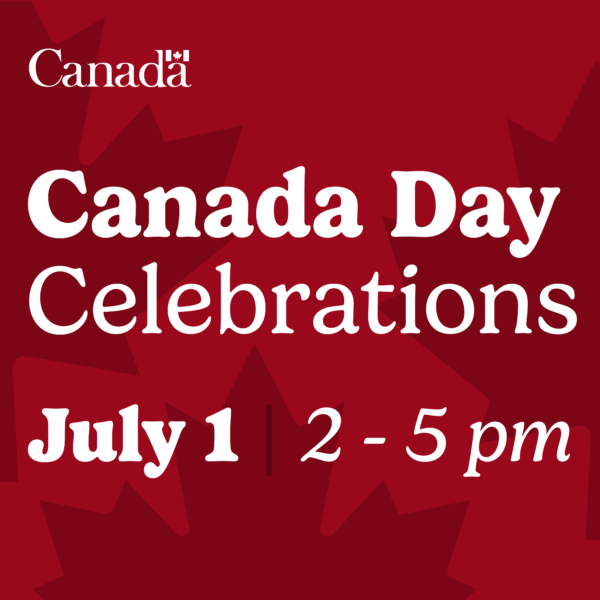 Célébration de la Fête  du Canada
👉1e Juillet
⏰14h à 17h
💲Gratuit
🎉Célébrez la fête du Canada avec le Centre du Patrimoine de la GRC! Cet événement passionnant est parfait pour toute la famille et est ouvert à tous. Rejoigner-nous de 14h à 17 h pour une entrée GRATUITE et une gamme d'activités GRATUITES et amusantes!🙌🏽
📖 Promenez-vous dans Buffalo Wild!, un livre captivant écrit par Deidre Havrelock
🍁Chasse au Trésor des feuilles d'érable
🎬Projections au théâtre
🐕‍🦺 Rencontrez un chien de police
🎨 Maquillage gratuit
📸 Prenez une photo à notre kiosque à selfies
🖌Testez vos compétences artistiques avez la peinture des roches
👀 Visite guidée de nos galeries
🚩Sautez et levez-vous à travers la course d'obstacles
💡 Contes au tipi
🏍 Roulez à toute vitesse sur nos mini-motos
👋🏽 Rencontrez Montee le Moose
Nous avons hâte de célébrer ce grand jour avec vous!
Les fonds proviennent du Fonds du Patrimoine Canadien.