August 4, 2021 - August 6, 2021
9:30 am - 3:30 pm
Fun with Forensics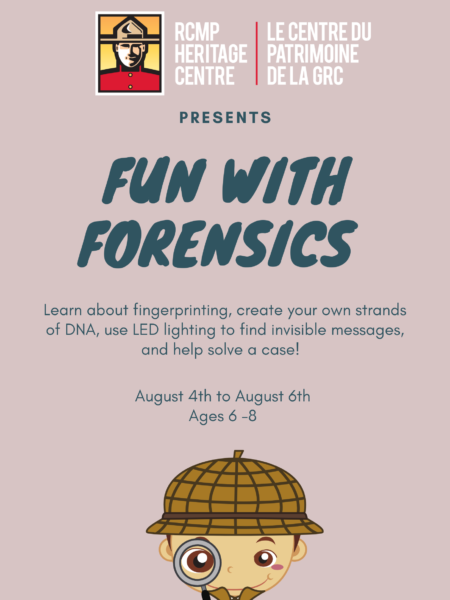 Fun with Forensics – Age 6-8
Dates Offered: August 4-6
The RCMP Heritage Centre is offering an opportunity for children to grow through social interaction, educational programming and physical recreation.
Our camp is designed to reach a variety of interests!
Children will take part in a forensics program where they will gather evidence to crack a case and solve the crime! They will have the opportunity to experience life as cadets as they take part in the mini-marching Mounties program, cadet band and motor-cycle parade as well as other outdoor activities. Campers will learn about the RCMP K-9 program and the Musical Ride. They will complete the camp with a graduation program and receive a certificate and badge.
Hours of camps will be 9:30 AM– 3:30 PM.
For more information and registration, contact bookings@rcmphc.com.